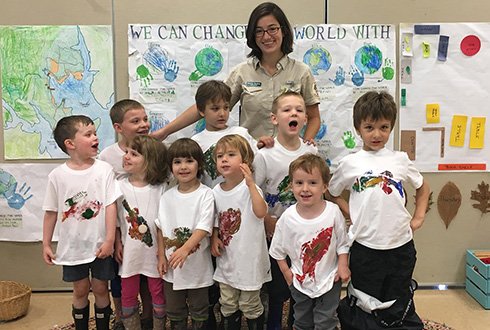 Marshy Point's Chesapeake Adventurers program offers children ages 3 to 5 a nature-focused learning experience. Modeled after the European Forest Kindergarten, the Adventurers set out on daily expeditions in our park. Through exploration and discovery, we facilitate a curriculum based on teamwork, problem solving, and consideration.
Alongside two Adventure Guides, children journey through the forests, wetlands, and tidal creeks that make up Marshy Point. We explore vernal ponds, play in meadows, and climb trees. Along the way, we will discover the flora and fauna that surround us, allowing each child to make their own special connections with nature.
We experience our environment in different seasons and through different types of weather. With a shelter built together and a fire to warm ourselves if needed, children will learn to appreciate the resources that nature provides. Over time they will grow to trust themselves and each other, deepening their love and respect for the natural world.
2019 Spring Semester (12 weeks)—still accepting registrations!
Dates: March 4 to May 31, 2019 (M/W/F; no class May 27)
Time: 9:30 am to 1:30 pm
Ages: 3 to 5 (must turn 3 by March 1, 2019, and be potty proficient)
Price: $90/week for MPNCC members; $100/week for non-members (due monthly)
Siblings (ages 3 to 5): $75/week for members and non-members (per person; due monthly)
Questions about our Program? Please contact us.
Registration
To register, please call 410-887-2817; or visit our office, Monday through Friday, between the hours of 9 am and 5 pm. Please note whether you are interested in the Winter session and/or the Spring session. Class size is limited to 15.
The first month's tuition is due upon registration. To pay online, please visit our Online Payments page. No refunds.
Parent Feedback
"I have never been more pleased with a program. The rangers were AMAZING. He learned more letters by making sticks than he did in two years of traditional academic pre-k AND he learned about the environment, can identify types of turtles, frogs, fish."
"I am SO thankful for this program and what it has done for my son AND for my vision of him and what he's capable of. You guys are amazing and I can never ever thank you enough."
"This program was phenomenal! My son asks to go to back every day even 2+ weeks after it ended and I've got a feeling that will continue until he starts again. He enjoyed it so much."
"He LOVED the rangers and they are so knowledgeable, fun, and caring that he learned to love nature too. This has been such a gift to him and to our family. He grew socially, intellectually (he is getting excited about letters!), physically (he can go on family hikes without being carried!), and he just really blossomed under the guidance of Ranger Bella and Ranger Courtney."