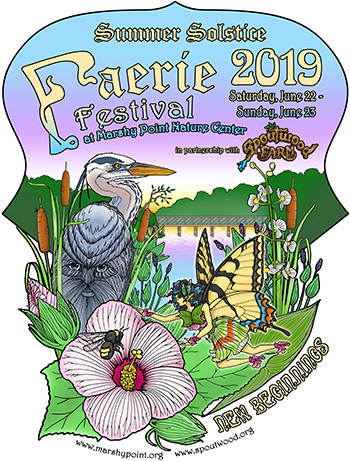 Marshy Point is excited to announce our first Summer Solstice Faerie Festival in partnership with Spoutwood Farm! After 27 years in Glen Rock, Pennsylvania, the Faerie Festival has landed at a new home. Come celebrate the season and the magic of nature!
Festival Information
The Faerie Festival will be held rain or shine from 10 am to 5 pm on both Saturday, June 22, and Sunday, June 23, 2019, at Marshy Point Park in Middle River, MD.
The festival will feature live music, dancing, bubbles, magicians, fairies, goblins, renowned craft vendors, and more winged things than you can count! Activities for humans and fae of all ages include maypole dancing, parades, drum circles, faerie and gnome village tours, a treasure hunt, tea parties, puppets, storytellers, and so much more!
To read the full press release about the event, click here.
Ticket Sales
Festival tickets are now on sale!
Discounted weekend passes are available through midnight Monday, June 17. All online ticket sales end at 9:00 pm EST on Friday, June 21. After that date, one day general admission tickets for adults and children will only be available for purchase at the festival entrance.

Vendor Applications
To apply to be a vendor, please complete the 2019 Vendor Application.
To apply to be a food vendor, please complete the 2019 Food Vendor Application.
To apply to be a performer, please complete the 2019 Performer Application.
(Note: The vendor and performer links will go to the Spoutwood Farm web site.)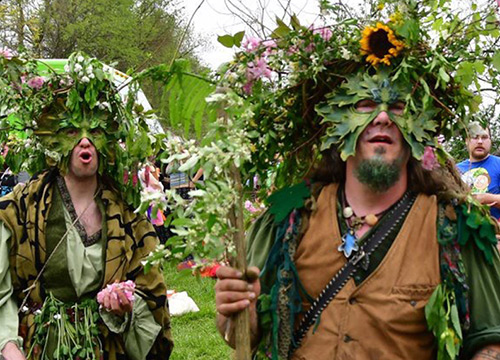 New Beginnings
Spoutwood Farm and the Marshy Point Nature Center Council are delighted to have partnered together to present the 2019 Summer Solstice Faerie Festival. While the creeks and wetlands of Marshy Point may be far from the rolling hills and fields of Spoutwood, the same water that flows through Spoutwood's Pierceville Run eventually meets the Chesapeake Bay and touches Marshy Point. Connected by water, spirit, and mission, both Spoutwood Farm and Marshy Point exist to further an appreciation for the natural world and demonstrate our shared connection to the environment.
The Summer Solstice Faerie Festival will allow both organizations to share the magic of nature and celebrate the wonder of the season. The opportunity to bring a community of friends and fae together is exciting and enchanting. After the festival, both Spoutwood and Marshy Point are looking forward to turning your support into the educational programs that will make the world a friendlier, better, and more magical place.