Did you know that 2020 marks 20 YEARS since Marshy Point Nature Center first opened its doors to the public?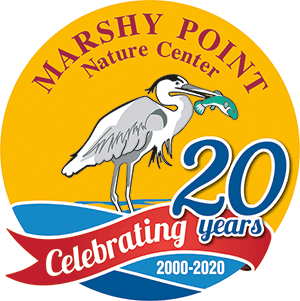 We had a fantastic celebration of this anniversary planned for our 2020 Spring Festival, but of course, it was put on hold due to the COVID-19 pandemic. We can't wait to welcome our Spring, Fall, and Faerie Festivals back to the park again soon!
Nonetheless, this Summer has been the toughest yet for the Center. With all fee-based programs, festivals, and summer camps canceled and refunded, the Center has lost a major portion of our operating revenue. In order to ensure that Marshy Point comes back stronger than ever, we need your help! Our 20th Anniversary Fundraiser will ensure that we continue to provide amazing nature experiences for all our visitors for years to come!
Support from this fundraiser will not only help us continue to maintain and improve our exhibits and live animal collections, but will also help us take on new and exciting projects.
These include a thorough investigation of the park's late 17th-century historical sites, improved development and training of our new Barn Owl and Black Vulture animal ambassadors, and the addition of a fleet of kayaks or paddleboards for socially-distanced marsh exploration.
Please help us reach our $20,000 goal ($1,000 for each year) by the end of 2020!
How to Donate
You can donate through our fundraiser on Facebook, through the Online Payments page on this site, or by mailing or dropping off a check (made payable to "MPNCC"). 
Thank You Gifts
– Donors of $25 or more will receive a special-edition Marshy Point 20th Anniversary pin as our thanks for your ongoing support!
– Donors of $50 or more will also receive a limited-edition 20th Anniversary wine glass!
– Donors of $100 or more will receive the pin, wine glass, and our 20th Anniversary commemorative coffee ("Bond's Neck Blend") with a Marshy Point coffee mug!
Thanks for your support in helping to make an even better 21st year around the marsh!
The Marshy Point Nature Center Council is a tax-exempt, non-profit organization under section 501(c)(3) of the Internal Revenue Code. Please retain a copy of your donation receipt, and consult your tax professional to take full advantage of this benefit.