Ask our visitors (young and not-so-young) about their favorite memories of Marshy Point Nature Center, and most will include one of our many on-site animals. How excited do you think they'd be to be able to 'sponsor' their favorite Marshy Point animal for a year?
By becoming a sponsor to one of the animals living at the Nature Center, you can purchase the perfect gift for yourself or someone else while helping Marshy Point maintain and improve its Center and animal habitats.
For $40 (per animal), you can sponsor:
Mr. Hootie, our resident barred owl
Moonshine, our resident barn owl
Frankie, our resident mallard duck
Tess, our resident kestrel
Dumplin', our resident black vulture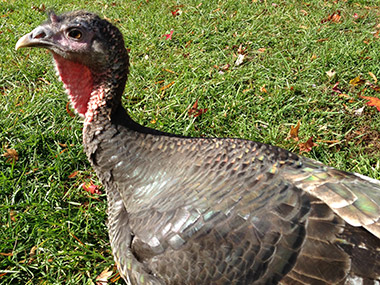 For $25 (per animal), you can sponsor:
One of our turkeys
One of our snakes (milk snake, corn snake, or black rat snake)
One of our diamondback terrapins, Maryland's state reptile
One of our snapping turtles
Each sponsor will receive a personalized Certificate of Sponsorship, a profile of the animal, as well as a picture of your individual animal. Also, in 2020, we will be hosting a Sponsors Event exclusively for individuals and families who have sponsored one of our animals.
How to Sponsor
Sponsorships are on an annual basis, so all sponsorships received from now until the end of 2020 will be for the 2021 calendar year (January to December).
STEP 1: Select which animal you want to sponsor on our Online Payments page.
STEP 2: List the recipient's name as it should appear on the sponsorship certificate.
STEP 3: If this is a gift, please include the recipient's address in the "Comments" area, and state whether you want the sponsorship package to go directly to him/her/them, or to you first. (Also, if you are sponsoring one of our snakes, please specify which one in the "Comments" as well.)
STEP 4: Click on the "Add to Cart" button. You will be connected to PayPal to complete the payment.
THANK YOU!