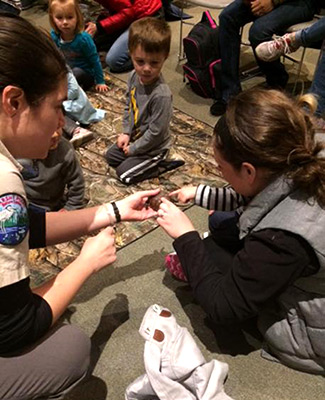 Situated on the Upper Chesapeake Bay along Dundee and Saltpeter Creeks, Marshy Point offers stands of old and young forest, open meadows, freshwater wetlands, and a web of tidal creeks and marshes for visitors to enjoy and explore. In combination with adjacent state and federal land, Marshy Point is part of a natural preserve encompassing more than 3,000 acres.
Today, Marshy Point Park features over eight miles of hiking trails, two self-guided nature trails, a canoe/kayak launch and pier, a wildlife observation platform, a community garden, and a butterfly garden.
The Nature Center is open from 9 am to 5 pm every day (except holidays), and the park is open from sunrise to sunset daily. There are a variety of exhibits and activities to check out around the Nature Center, and staff members are happy to answer any questions.
Native Wildlife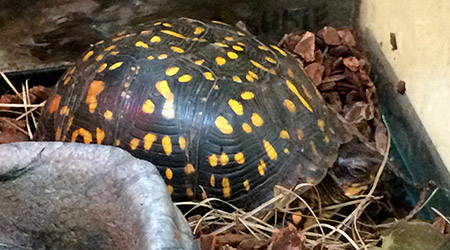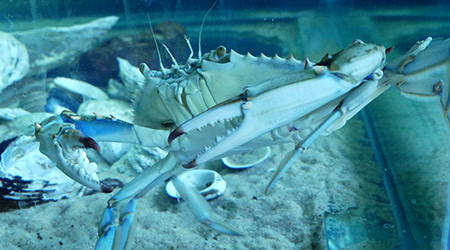 Marshy Point Nature Center is home to more than 50 different native wildlife species. Most of these animals are under human care because they would not survive in the wild (as determined by licensed rehabilitators and wildlife experts), while others cannot be released due to local and federal rules and regulations. Our animal ambassador group includes mammals, birds, reptiles, amphibians, and insects. Visitor favorites include diamondback terrapins, several species of snakes, and our barred owl. The best way to learn more about our local wildlife is to stop by the Center and see our animal ambassadors in person.
Chesapeake Nature Discovery Play Space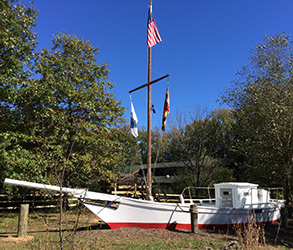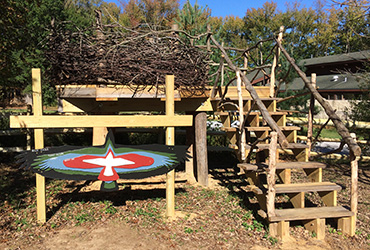 The young and young at heart are encouraged to discover the Chesapeake by playing on some of its most iconic features. Our 3/4 scale skipjack (the Z.H. Barnickel) allows visitors to take the helm of an old time oyster boat. You can also sit in a man-made bald eagle nest to gain a birds-eye view and appreciate the engineering abilities of our national bird or explore our state fish in the Rock Fish replica.
Bird Corner and Osprey Nest Cam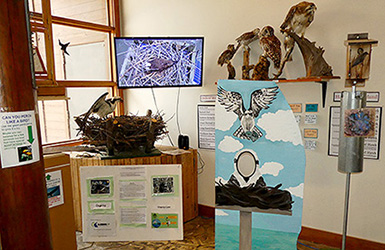 Learn about the birds that visit and/or live along the Chesapeake, and watch the happenings on Dundee Creek year-round.
Chesapeake Connections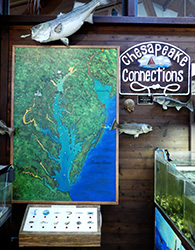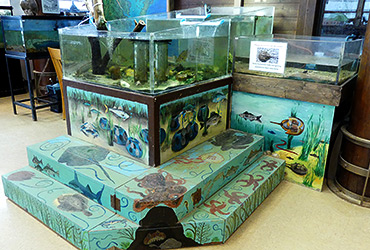 We all have a connection to the Bay. Almost everyone in Maryland lives in the watershed of our nation's largest estuary. Check out an interactive Chesapeake map, a three-sectioned tank, and our Maryland state turtle—the diamondback terrapin.
Insect Corner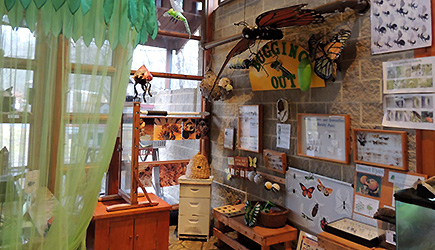 Get a bug's eye view by exploring the adaptations of insects.
Kid's Corner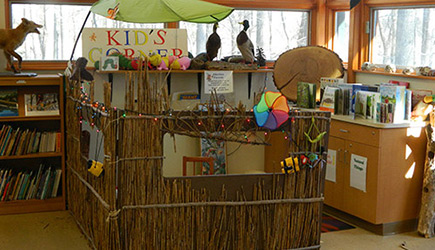 Kids can hunker down in this duck blind-shaped structure to enjoy games, activities, and nature storybooks.
Habitat Exploration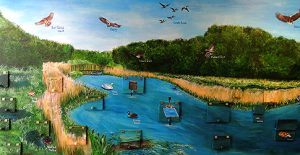 From woodlands and wetlands to Dundee Creek's shallow waters, animals are adapted to life in different habitats. This interactive wall reveals who lives where throughout Marshy Point.
Reefs of the Chesapeake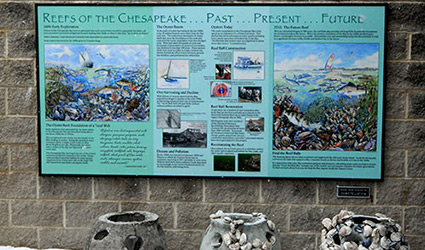 This exhibit showcases the Chesapeake Bay's oyster reef ecology—from abundance during the early days of English colonization, to current depletion and restoration, and onto a hopeful future.
Sounds of the Marsh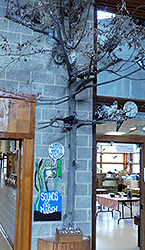 Push a button on this 'talking tree' for an exciting surprise, and match the call/sound with the animal that made it.
Ducking on Dundee Creek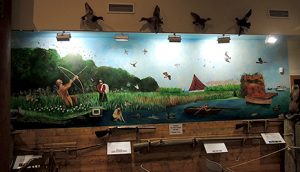 The relationship between humans and natural resources has changed over time. The tools that people used to hunt waterfowl have changed along with our attitudes about the importance of conservation.
Mounted Specimens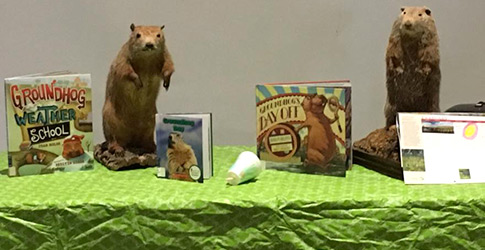 Throughout the Nature Center, you can get an up-close look at animal taxidermy specimens that are rarely seen in the wild.
Nature Library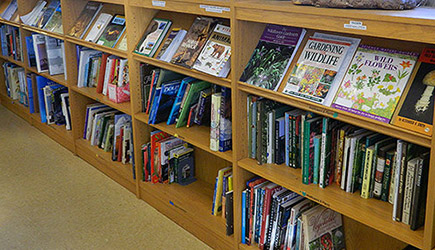 Read or research in our large collection of environmental and natural history books.