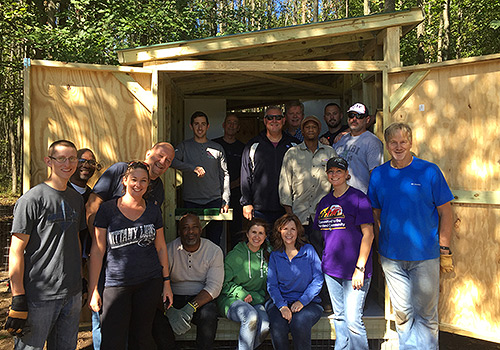 Since opening in 2000, Marshy Point has provided the residents of Baltimore County with educational programming, 500 acres of park to explore, a public visitor center, and a message of environmental stewardship and responsibility.
Marshy Point currently serves around 80,000 visitors per year, supports an extensive live animal collection, offers interactive exhibits, and provides hundreds of on-site and outreach programs. We also hold several special events throughout the year.
To continue providing the highest quality experience while adding new features and exhibits to Marshy Point, we are seeking corporate and business sponsors to help us with this effort.
All corporate and business sponsorships are for the calendar year they are made in (e.g., 2022). All levels of support are welcome, and in-kind donations are also appreciated!
Platinum Level/Corporate Lifetime Member ($5,000 or more)
Gold Level ($1,000 to $4,999)
Silver Level ($100 to $999)
How to Join
It's easy to become a sponsor or to renew your sponsorship! You can contact us:
BY MAIL. Print and fill out the sponsor contract form. Then mail the form in with payment by check; do not pay online. Your Cattails newsletter and other MPNCC communications will be delivered by the method you selected on the form.
OR
ONLINE (for monetary donations). On our Online Payments page, enter the amount you wish to give. You will be connected to PayPal to pay the amount by credit card or bank transfer.

Past Sponsors
Many thanks to the following sponsors, whose monetary and/or in-kind donations are helping Marshy Point move forward with a number of exciting new exhibits and initiatives, as well as supporting our education programs, live animals, and special events.
Platinum Level/Corporate Lifetime Member


Gold Level



Silver Level



 
 
The Marshy Point Nature Center Council (MPNCC) is the official partner organization of Marshy Point Park and Nature Center. MPNCC is an all-volunteer, 501(c)(3) non-profit. All donations to MPNCC are tax deductible.