Marshy Point Park features over eight miles of hiking trails, two self-guided nature trails, a wildlife observation platform, a butterfly garden, a paddle trail, and a canoe launch and pier.
Visitors are encouraged to start their visit at the Nature Center—staff members are on hand from 9 am to 5 pm to provide an introduction to the park and answer questions.
Hiking Trails
Marshy Point's hiking trails wind through the flat coastal plain forest and adjacent wetlands, providing opportunities to observe wildlife and enjoy scenic views of Dundee and Saltpeter Creeks.
The hiking trail map (updated March 2017) is viewable online, and copies are available at the Nature Center. Additionally, at the beginning of most trails, a QR code is posted on the trail sign which will open the appropriate online map.
The Dundee-Saltpeter Self-Guided Nature Trail begins just outside the Nature Center and follows the blue- and red-blazed trails. A guidebook (available online and at the trailhead) directs hikers to numbered points of interest along the trail. [1.4 miles]
Katie & Wil's Trail is a paved accessible trail that begins at the Nature Center and extends past the park's wetland restoration area to Brinkman's Road. Dedicated in memory of Katie and Wil Brady, this trail is blazed orange and includes excellent views from an observation platform and bridge over Minnow Branch Creek. A guidebook (available online) directs hikers to points of interest along the trail. [0.6 miles]
The White Tail-Weiskittel-Iron Point Self-Guided Nature Trail starts near the parking lot and follows the white-, green-, and red-blazed trails. A guidebook (available online) directs hikers to numbered posts for points of interest along the trail. [1.6 miles]
Marshy Point is also part of Baltimore County Nature Quest, which includes an activity booklet and hikes to trail markers at a number of different county park sites. Marshy Point has two markers—one on the Dundee-Saltpeter Trail and one only accessible by canoe. [1.5 miles]
Trails at Marshy Point are designed to a have minimum impact on the ecosystems they cross and may be flooded or muddy after rain or snow events. Visitors can inquire about trail status at the Nature Center before beginning a hike.
Park staff ask visitors to help maintain our trails by reporting downed trees and signs to the Nature Center.
Paddle Trail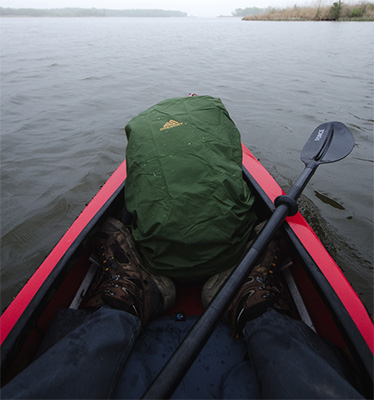 Experience Marshy Point by canoe or kayak from Baltimore County's first aquatic trail!
The Dundee Creek Paddle Trail is a self-guided trail that takes visitors on a one-mile circuit around Dundee Creek, and introduces interesting features of this protected corner of the Chesapeake.
The map and interpretive guide is available online and at the dock. As you paddle along, take time at each point of interest or 'trail stop,' which has been plotted on the trail map. Each stop is outlined in the guide with additional information, to aid in identifying features of this trail. As a note, Marshy Point does not rent their canoes or kayaks; they are only used for naturalist-led, public programs. 
Before You Arrive
It is important to dress for the weather, as trails are subject to seasonal changes:
In the early spring, hikers may encounter flooded or muddy areas, especially along the blue and purple trails, where waterproof boots are recommended.
During late spring and early summer, long sleeves, long pants, a hat, and insect repellant are suggested as a defense against biting flies.
In late summer, hikers should watch for ticks and other biting insects. A hat and insect repellant are highly recommended.
Fall is a great time to enjoy the trails and changing foliage around Marshy Point. Dress warm or in layers, as shaded trails can be cooler.
Trails are generally passable during winter months, but are not cleared of snow. Waterproof boots, hats, and gloves are recommended.
It is a good idea to bring water or another healthy drink along for the hike, in case anyone gets thirsty. Please keep any trash and empty bottles with you—please dispose of and/or recycle at home or using the designated containers at the Nature Center.
After Your Visit
Many people have noticed an increase in ticks while visiting Marshy Point (and in general) this year. Entomologists say that our region's warm Winter is the cause. Things may not improve until we get longer periods of freezing weather, hopefully next Winter.
When you go out on the trails, please take precautions like using DEET-based inspect repellant on your ankles, legs, and arms. We also recommend tucking pants into socks and wearing long sleeves. Make certain to thoroughly check for ticks when you get home, including feeling the head for any abnormal bumps. For a visual guide on different sizes and types of ticks, check out this graphic.