In addition to regular programs, Marshy Point offers a variety of fun, affordable summer camps for kids ages 4 to 12. All camps are open to the public.
You can check out photos from our past camps on our Facebook page. There are also videos from past years on our Photos and Videos page (click on the 'Summer Camp' category).
2020 Summer Camps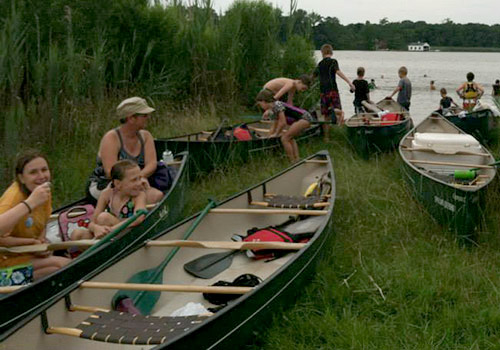 Due to popular demand, some summer camps are being offered more than once this summer. However, there is a limit of one (1) week of camp per child.
Camp Dates and Information
As of Monday, March 9th, camp availability is as follows. Please contact the Nature Center for the latest information.
Chesapeake Camp
Hike the Coastal Forests and Marshes, Explore Shallow Waters by Canoe, Research Deep Waters by Workboat
For ages 10 & 11
9:30 am–2:30 pm
$175 for 1 week ($150 for members)
Week 1: July 20-24
Week 2: July 27-31 — full; waitlist available
From Rivers to the Bay
Explore Our Watershed from the Upper Reaches of the Gunpowder River to the Coastal Plain
This adventure camp includes travel to other sites.
For ages 11 & 12
9:30 am–2:30 pm
$200 for 1 week ($175 for members)
Week: August 3-7 — full; waitlist available
Bay Explorers
Get Wet, Get Muddy, Get Ready for Adventure!
We'll explore our freshwater wetlands, shallow creeks, and swamp forests.
For ages 6 & 7, and 8 & 9
9:30 am–2:30 pm
$175 for 1 week ($150 for members)
Week 1: June 29-July 2 (ages 6-7) (no camp July 3)
Week 2: July 6-10 (ages 8-9) — full; waitlist available
Week 3: August 10-14 (ages 8-9) — full; waitlist available
Week 4: August 17-21 (ages 6-7) — full; waitlist available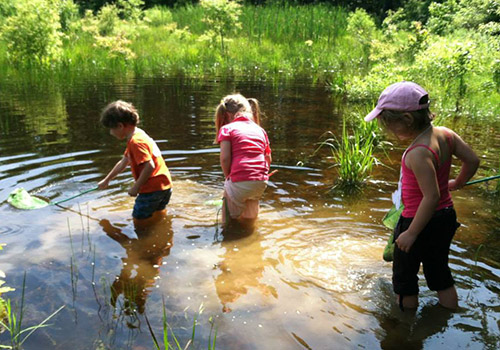 Pollywog Camp
The Perfect Camp for Little Ones Who Love Nature
Parents are welcome to stay, join in, and help out.
For ages 4 & 5
9:30 am–12:30 pm
$150 for 1 week ($125 for members)
Week 1: June 15-19
Week 2: June 22-26
NEW! Campout Camp
Each Night, Enjoy a Different Adventure and Campfire Food
Family Campout on Friday (parent required for campout night)
For ages 7 to 12
4–7 pm
$175 for 1 week ($150 for members)
Week: July 13-17 (ages 7-12)
How to Register
Camp registrations for MPNCC members began at 9 am on Tuesday, March 3.
Registration for non-members will start on Tuesday, March 10.
Reservations are accepted Monday through Friday during Center hours (9 am to 4 pm) on a first-come, first-served basis. No registrations will be accepted before 9 am. Before registering, please make sure that your child meets the age requirement for the camp s/he wants to attend. NO exceptions.
Camp registrations are accepted in-person, by mail, and over the phone. The phone will be very busy and calls will be answered in the order in which they are received. Please do not leave voice mails. Mail-in registrations will be processed upon receipt, not by postmark date.
To print out this year's registration form (for in-person and mail-in registrations), click here.
Full payment is due with registration. Payments can be made online (for in-person, mail-in, and phone-in registrations), by check (for in-person and mail-in registrations), and by cash (for in-person). Please do not mail cash. All payments are considered donations and are non-refundable unless camp is filled or cancelled by us.
If you are paying for someone with a different last name than yours: If writing a check, write the camper's name on the MEMO line and/or the copy of the info. sheet. If paying online, in the field provided, please list the name of the camper you are paying for.
If you require special accommodations (i.e., language interpreter, large print, etc.), please call 410-887-5370 (TDD: 410-887-5319).