The Faerie Festival is back for May Day!
Join us for our May Day Faerie Festival, in partnership with Spoutwood Farm, as we celebrate the magic of nature with The Greenman, Lady Lucy, and our family of fae.
The festival will be held on April 30th and May 1st, 2022.
Here is your guide to all things magical at the 2022 May Day Faerie Festival!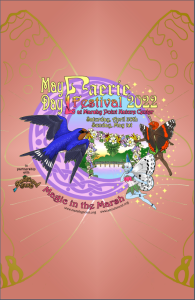 Interactive capabilities:
Visual accessibility (via icon in top left corner)
Zoom in/out feature
Search function
Download to mobile device and/or computer
Hyperlinks to vendor websites
Touch-and-turn pages
There will be live music, dancing, bubbles, magicians, faeries, goblins, renowned craft vendors, and winged things both common and uncommon. Activities for humans and faeries of all ages will include wildlife encounters, parades, drum circles, faerie and gnome villages, storytellers, and much more.
For more information, check out our May Day Faerie Festival page. And visit our Facebook event page for the latest updates.