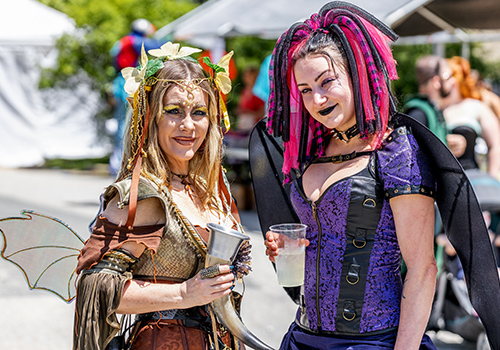 After 27 years in Glen Rock, Pennsylvania, the Faerie Festival at Spoutwood Farm moved to Marshy Point. The first Summer Solstice Faerie Festival took place in June 2019.
Marshy Point Nature Center now jubilantly invites you to share in our May Day Faerie Festival in partnership with Spoutwood Farm. On April 30th and May 1st, 2022, we're moving the festival back to May Day to capture the original magic and wonder in the marsh. Join us as we celebrate the spirit of Spoutwood Farm with The Greenman, Lady Lucy, and our family of fae.
Celebrate the spirit of Spoutwood and many years of magic and wonder!
>  Please visit our Facebook page for further event updates.
Ticket Sales
Festival program
2022 May Day Faerie Festival Program
The Great Regathering of the Fae in 2022
All are encouraged to join together again in 2022 at our extremely fae-friendly and fun home at Marshy Point. We will meet merrily, we will dance, and we will call out our Kubiandos from one to the other throughout the festivities.
The festival will feature live music, dancing, bubbles, magicians, fairies, goblins, renowned craft vendors, storytellers, and more winged things than you can count! There will be activities for humans and fae of all ages!
Until then, Kubiando to one and all!
Application forms for the 2022 festival can be found here:

We are still accepting applications for food vendors.
Volunteer Opportunities
For Faerie Festival volunteer information, email faeriefestivalcoordinator [at] marshypoint.org
(replace [at] with @)
The Magic of Nature
Spoutwood Farm and the Marshy Point Nature Center Council are delighted to partner together again to present the 2022 May Day Faerie Festival. While the creeks and wetlands of Marshy Point may be far from the rolling hills and fields of Spoutwood, the same water that flows through Spoutwood's Pierceville Run eventually meets the Chesapeake Bay and touches Marshy Point. Connected by water, spirit, and mission, both Spoutwood Farm and Marshy Point exist to further an appreciation for the natural world and demonstrate our shared connection to the environment.
The May Day Faerie Festival will allow both organizations to share the magic of nature and celebrate the wonder of the season. The opportunity to bring a community of friends and fae together is exciting and enchanting. After the festival, both Spoutwood and Marshy Point are looking forward to turning your support into the educational programs that will make the world a friendlier, better, and more magical place.

For a quick look at some of the sights and sounds of the 2019 festival, check out the video and photos below: