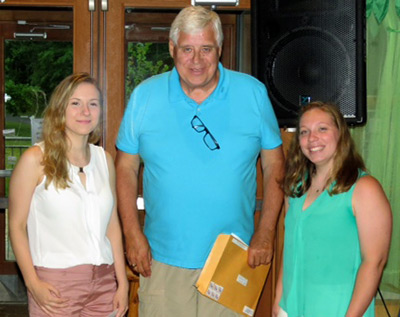 Congratulations to Sarah Kulis and Maura Neely, winners of Marshy Point Nature Center Council's 2016 scholarships (each valued at $500)! John Coffman, one of the Council's directors, presented the winners with their scholarships at the annual MPNCC member fish fry.
Sarah and Maura are committed to the environment. Each has over 1,000 hours of volunteer experience at locations including Marshy Point (where they both served as Marsh Rangers), the National Aquarium in Baltimore, and other venues that do environmental education. At their schools, they are only required to complete 75 hours of volunteer work to graduate.
Sarah
graduated with honors from The Catholic High School of Baltimore. She will be attending West Virginia University, majoring in Fisheries and Wildlife Science, with a minor in Criminal Justice.
It is her hope to join the Marine Police or another enforcement branch of the Federal Government that deals with wildlife in order to protect our natural resources.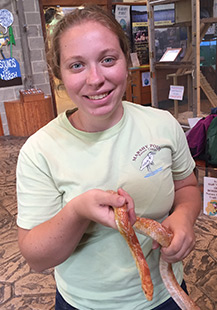 Maura
graduated from Maryvale Preparatory School with high honors. She will be attending the State University of New York (SUNY) Maritime College, majoring in Marine and Environmental Science.
She hopes to help make and enforce environmental policy. She was also the recipient of many awards in school, as well as awards from other outside groups that recognized her talents.
Both young women are exceptional, and the Marshy Point Nature Center Council is pleased to recognize their efforts and give each of them a scholarship.
Best wishes on your future studies and efforts, Sarah and Maura!